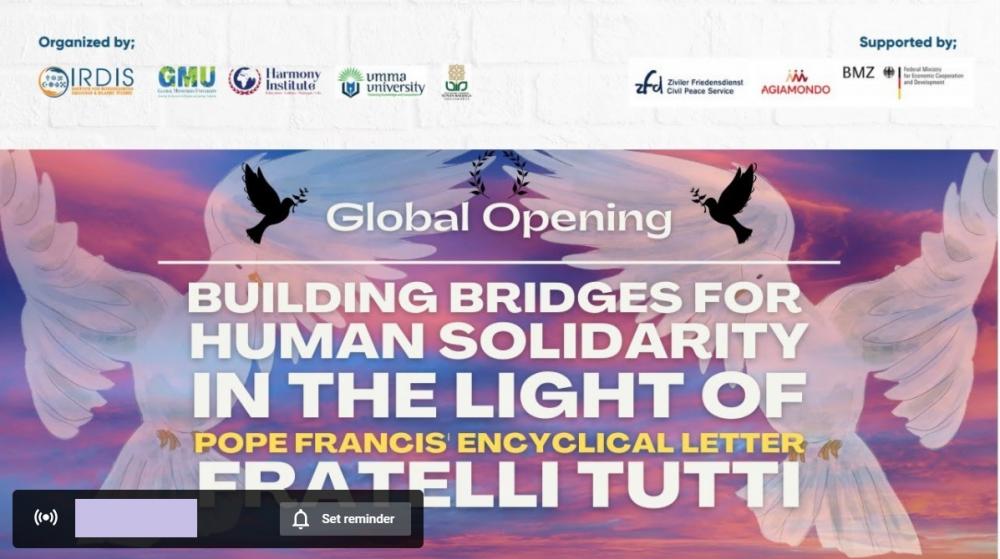 Youtube Link:Global Opening of The Conference - YouTube
The conference will take place from Thursday August 19 to Saturday, August 21, 2021 and will be based at Tangaza University College in Nairobi, Kenya. The conference is co-organised by five institutions that are involved in interreligious dialogue both at the academic and grassroot levels. The Global University Ministry is based in California. It offers postgraduate degrees in interreligious dialogue. Harmony Institute is a multi-religious and multi-ethnic organization encouraging peaceful coexistence of human fraternity with the purpose of advancing social cohesion by connecting communities and contributing to the development of ideas on dialogue, peace and sustainable development. The Institute for Interreligious Dialogue and Islamic Studies (IRDIS)iii is an institute that offers, amongst many activities, to train people of different faiths in Interreligious Dialogue, within a Catholic university college. Umma University is "the University of the people." It was established in 2013. Universitas Islam Negeri Sunan Kalijaga Yogyakarta will be the representative of Asia-Pacific Hub its vision is to excel and leading in Islamic integration and development for civilization.
Participants to the conference will be drawn from across the globe and organised in different hubs (Africa, Asia, Europe, Latin America and North America) with themes that are relevant to each hub. Participants will be able to access the conference through online portals. This conference will draw upon the experience of people from diverse religious, cultural and economic backgrounds who are developing new ways to transcend many of the divisions that are afflicting the human community and our common home on planet earth. We plan to engage global citizens to build transformative models of community development that bridge economic, political, religious and cultural divisions in the world.
The conference will focus on the message of Fratelli Tutti (2020) as a spiritual handbook promoting solidarity among all peoples on earth. It will also recognize opportunities provided by the document on Human Fraternity for world peace and living together (2019) and Makkah Declaration (2019). It will use the platform provided by the world's religions to support a Global Ethic of inclusion, shared commitments, resources, compassion, and interdependence of the human family with other life forms on earth. The goal of the conference will be to develop an ongoing global platform as well as centers on the ground for growing leadership and resource development, for unifying the human family and providing guidance about how to achieve this overarching goal. Regional hubs in Africa, Americas, Asia and Europe will be established as part of this conference.
We will examine the types of community building activities that have successfully translated the hopeful message of Fratelli Tutti into actualizing educational strategies that build communities promoting new bonds among diverse social, cultural, and religious groups in various parts of the world. We plan to use the latest technological platforms to publish the outcomes and recommendations of this conference.